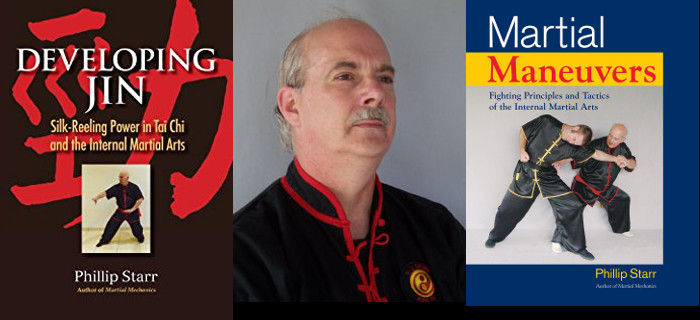 Jason M. Colwell and Zac Lui welcome Phillip Starr to the show.
Phillip Starr began training in the martial arts in 1956, beginning with judo. Within a year, he received instruction in traditional kung-fu. He continued his training, also earning black belt grades in two styles of Japanese karate (3rd dan inKyokushin, 1st dan in Shito-ryu). His primary kung-fu teacher was W. C. Chen, a direct disciple of one of China's best-known masters, Zhang Zhaodong. From Master Chen, Mr. Starr learned taijiquan (tai-chi chuan), xingyiquan, baguazhang, and a form of shaolinquan.
He began teaching Chinese martial arts in 1967 at Parsons College in Fairfield, Iowa. After spending several years in law enforcement, he opened his first full-time school in Ottumwa, Ia. He entered competition and earned the title of U.S. National Champion 5 times (the last time when he was 63 yrs. old).
He was named to the National Rules Committee of the United States Karate Association and became the Kung-Fu Chairman. Later, he was named to the list of the Rocky Mountain Top Ten competitors.
He went on to train in Arnis (becoming a certified instructor under Tuhon Leo Gaje) and Jeet Kune Do.
He went on to found the Iowa Martial Arts Association in 1980.
He became the National Chairman for the AAU (Amateur Athletic Union) Chinese Martial Arts Division in 1991 and built it into the largest Chinese Martial Arts organization in the U.S. He was also named to the Kung-Fu Hall of Fame by Inside Kung-Fu Magazine.
Mr. Starr has authored six books on the Chinese Martial Arts, all of which are currently available on Amazon.com and in fine bookstores. He lived and taught in southern (mainland) China for 3 years and has now returned to live in Omaha, Ne.
Books authored:
The Making of a Butterfly
Martial Mechanics
Martial Maneuvers
Hidden Hands
Developing Jin
Martial Structure (available in Aug. of 2018)
Refining Jin (current project)
Website: www.yiliquangong-fu.com