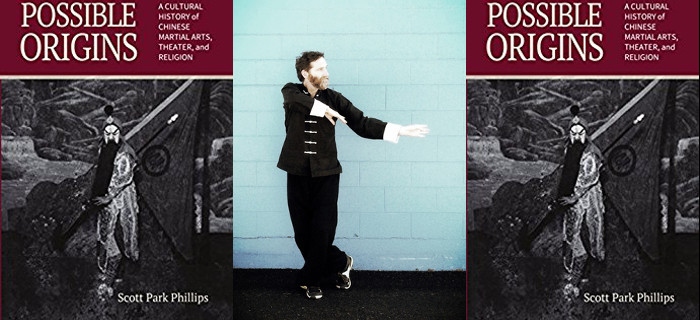 Jason M. Colwell and Zac Lui welcome Scott Park Phillips to the show, to discuss his work with Chinese martial arts, theater, and Eastern religion.
Scott Park Phillips began training in Chinese martial arts and qigong in 1977 under the guidance of Bing Gong, who was a senior student of Kuo Lien-Ying. Kuo Lien-Ying was one of the first Chinese "internal" martial artists to begin teaching in the United States.  From Bing's teaching Scott developed a life-long interest and foundation in the Northern Shaolin (Changquan) System, as well as Yiquan and Guan Ping Yang Taijiiquan.  
Bing introduced Scott to George Xu (Xu Guo Ming) in the late 1980s.  Xu is a widely respected practitioner and teacher of Chen-Style Taijiquan, Liuhe Xinyi, Lanshou quan, Baguazhang, and a major force in the preservation and transmission of Chinese traditional martial arts.  Scott formed a relationship with Xu that has spanned more than two decades.
Over the years Scott has studied extensively with Zhang Xue Xin, Ye Xiao Long and Bruce Kumar Frantzis.
Scott's View with Background
Many martial systems, the Chinese systems in particular, have roots in both contemplative traditions and dance/theatre arts.  Theatre, ritual dance, yogic traditions and martial arts have a primordial relationship, they developed together and continue to inform each other.
As a consequence of this view, Scott has studied and performed in several dance traditions, including the Congolese system taught by Malonga Casquelourd and in the Kathak (Indian Classical) tradition of Chitresh Das.
As for contemplative practice, Scott studied religious Daoism for nine years with Liu Ming, who was the founder of the Five Branches School of Traditional Chinese Medicine and lineage holder in several styles of Daoist meditation.
Finally, in terms of anatomy, physiology and modern movement systems, Scott spent years training with Rebecca Haseltine (Body Mind Centering) and John Ingle (Alexander Technique).
Check out his website at http://northstarmartialarts.com/!
Get his book on Amazon!