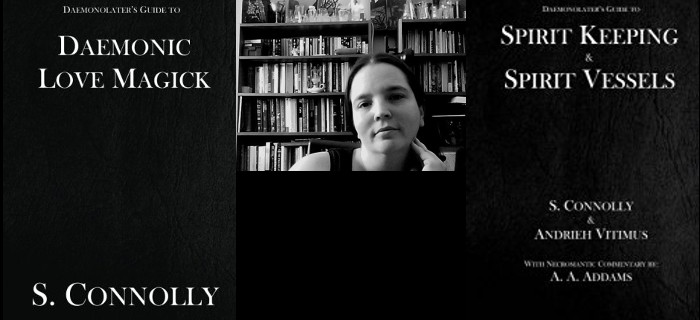 Bestselling author S. Connolly joins Jason M. Colwell as our newest Co-host. She will discuss her latest work, Daemonic Love Magick (The Daemonolater's Guide) (Volume 8). Join us as we welcome Stephanie to the show staff!
Stephanie has been practicing and studying all things "occult" and metaphysical since 1984. Her interest started with divination, gematria, and necromancy and quickly spiraled toward ceremonial magick, witchcraft, and Daemons. She has been a practicing Daemonolatress since 1988. She also writes occult/paranormal mystery novels (with Daemonolater and Satanic characters) as Audrey Brice, bdsm erotic romances as Anne O'Connell, and she writes PG fantasy novels as S. J. Reisner. She is an author of a tremendous amount of books.
To find all of Stephanie's great material and subscribe to her personal newsletter, head over to her personal website at sjreisner.com!
AMAZON AUTHOR PAGES
Stephanie's contemporary romances, YA Paranormal and Fantasy fiction can be found here:
http://www.amazon.com/-/e/B002D17DLS
Stephanie's paranormal mystery (urban fantasy/occult paranormal), thriller, and horror fiction can be found here:
http://www.amazon.com/-/e/B003ZFW3DE/
Stephanie's Non-Fiction can be found here :
http://www.amazon.com/-/e/B003M6Z7W0
Stephanie's Erotica, Erotic Romances, Paranormal Romance, and Erotic Horror can be found here:
http://www.amazon.com/Anne-OConnell/e/B0045SRL96/