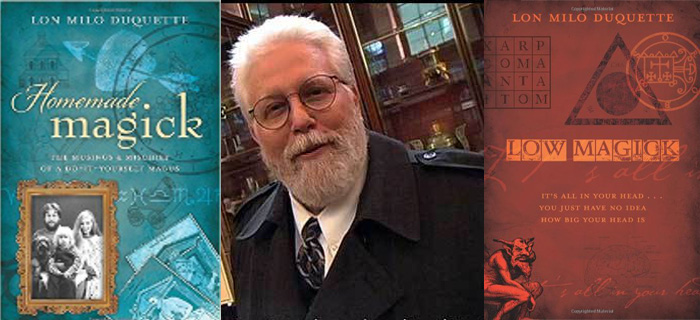 Live Tue. Feb. 21st, 2017 8pm EST on Para-X-Radio.com
Andrieh Vitimus and Jason M. Colwell are honored to welcome Lon Milo Duquette back to the show to discuss Homemade Magick!
Born 1948 in Long Beach California, and raised in Columbus Nebraska — 1960s radical Peace activist and Epic Records song-writer and recording artist (Charley D. & Milo) he transformed himself into author, holy-man, humorist, wizard.  Author of 16 critically acclaimed books (translated in 12 languages) on magick and the occult, Lon Milo DuQuette is one of the most respected and entertaining writers and lecturers in the field of the Western Mystery Traditions.
He is an internationally recognized authority on tarot and ceremonial magick.  Reviewers have compared his wit and writing style to that of Mark Twain and Robert Benchley.  Audiences at his workshops and seminars describe the experience as a cascade of mesmerizing information, laughter and terror.
Although he takes this subject matter very seriously, he tries not to take himself too seriously.  This rare combination of scholarship and humor has earned him in the last 20 years a unique and respected position in the world American esoteric literature.
He lives in Costa Mesa, California with Constance his wife of 50 years.