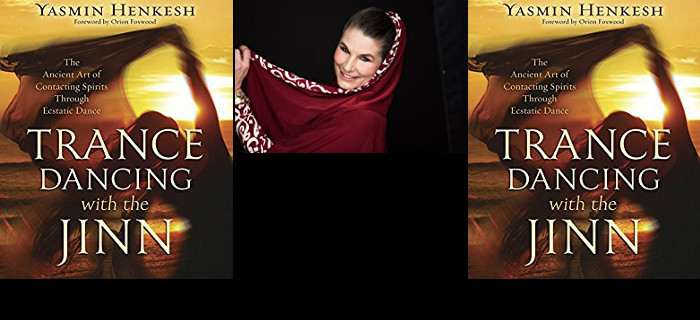 Andrieh Vitimus and Jason M. Colwell welcome Yasmin Henkesh to the show, for the first time to discuss her first book,
Trance Dancing With The Jinn
. We are pleased to present her years of knowledge, from cultures often misunderstood by our own.
Yasmin Henkesh has always had dancing in her blood. A dedicated performer, teacher, trainer and workshop instructor, she now has over 40 years of cabaret and folkloric Middle Eastern Dance experience. A native of Washington D.C., she took her first belly dance class at age fifteen at "Adriana's Mecca of Middle Eastern Dance" in upper Georgetown, a short bus ride from her high school, Sidwell Friends. Later, at Kenyon College, she spent most of her time in the theater department and was fortunate to perform as "the belly dancer" in C. C. Pyle and the Bunyon Derby, a play directed by Paul Newman to inaugurate the college's new theater.
After graduating, she followed the siren call to Europe to dance professionally in Paris, London and the south of France. This was at the end of the 1970s when oil-rich Arabs were just discovering these wonderful cities. Royalty and other wealthy Arabs frequented the clubs where she performed, and management brought the best of the Arab world's artists to please them; Sabah, Walid Toufiq, Ahmed Adawia, Mohammed El Aizabi, Hassan Abou al-Saoud, Khamis Henkesh, Mona Said, Shoo Shoo Amin and Sahar Hamdi were among the many talented acts she shared the stage with.
Bitten by the bug, Yasmin decided to go sell sand in the desert so to speak, and moved to Cairo to work. Khamis Henkesh's older brother Sayed took her under his wing and became her band leader. She appeared nightly at The Auberge on the Sharia al Haram and at the Holiday Inn Giza, in addition to countless weddings and private functions. She studied Arabic at the American University of Cairo and researched Egyptian trance dancing.
After a number of years she became discouraged with the way women were treated in the Middle East and returned to London to obtain an MBA from London Business School – putting herself through school by dancing at Mona Said's famous club Omar Khayyam on Regent Street. Afterwards she spent over a decade as a film distributor in Paris until returning to the Washington DC area in the early 1990's. She taught Egyptian style Middle Eastern dance at Joy of Motion, one of the area's premier dance schools, until she left to open her own studio in Bethesda, Md., Serpentine Dance. She is known for her lively, fun and invigorating classes that help students connect with their natural rhythm and passion. Her widely acclaimed international workshops are known for her depth of research, grasp of the region's dance history and easy-to-follow movement explanations.
In 2005 Yasmin created Sands of Time Music to share with her students the rich, multifaceted music she fell in love with in Egypt. The Henkesh Brothers, from a long line of Cairo's Golden Era Mohammed Ali Street musicians, agreed to help and can now be heard on many of her label's albums (all on Amazon). Sayed also recorded many of Cairo's best folkloric artists to help preserve the genre before it disappeared forever into the amalgam of World Music.
Learn more at: http://www.serpentine.org