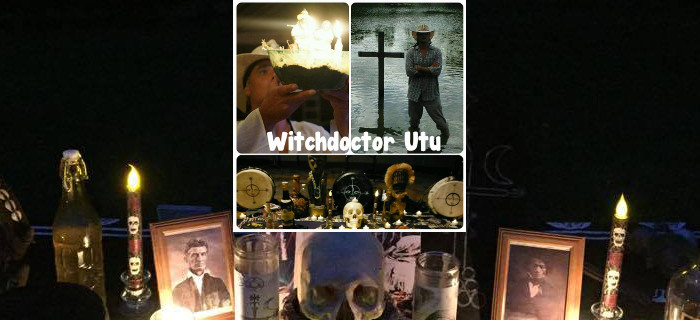 Andrieh Vitimus and Jason M. Colwell welcome Witchdoctor Utu back to the show to tell stories from the road and to also discuss music and spirituality. 'a764ammf'
Witchdoctor Utu is the founder of the Dragon Ritual Drummers, the Niagara Voodoo Shrine and is a member of the New Orleans Voodoo Spiritual Temple.
For the last fifteen years he has been immersed in the root work, conjure and mysticism surrounding the lore and legacy of the Underground Railroad. Living in St. Catharines Ontario, where Harriet "Mama Moses" Tubman brought her "track" to its end, he has been up front and integral over the last decade of continuing to uplift and elevate the spirit of Mama Moses and her surrounding spiritual court.
Witchdoctor Utu travels extensively in both Canada and the United States to teach, lecture and facilitate rituals at some of the largest spiritual gatherings on the continent.
Learn more at: http://dragonritualdrummers.com/
Support the fundraiser for the rebuilding of the New Orleans Voodoo Spiritual Temple:
https://www.gofundme.com/g5mujmt8?brandedshare=1&donorname=Tavia+Rowan
Preview more music:
https://www.reverbnation.com/dragonritualdrummers?profile_view_source=header_icon_nav
This is the video for Bamboula https://www.youtube.com/watch?v=vxpMvipOC5c