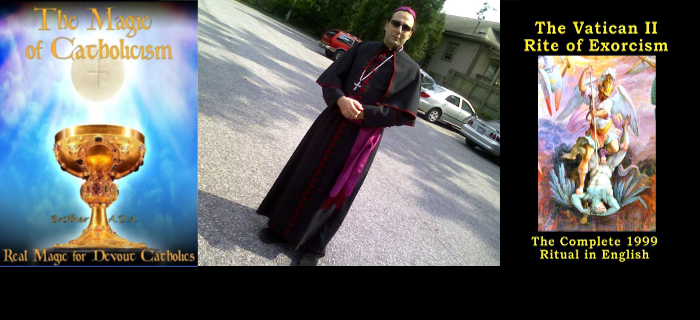 Jason M. Colwell welcomes Father Jason Spadafore to the show to discuss his research and experience with Exorcism as a Catholic Priest.
Jason Spadafore (alias Agostino Taumaturgo) has been a student of Christian spirituality and magic for almost 30 years, specializing in theology and orthodox methods of manifestation. His father was a metaphysics teacher, and Jason learned much from him.
In addition to growing up around spirituality, Jason was ordained a traditionalist Roman Catholic priest in 2002, where he served in the Latin-Rite Catholic Community under Bishop Anthony Farr, and in 2007 was consecrated a bishop by Patrick Taylor of the Society of the Virgin Mary. After 13 years in the priesthood, in 2015 Jason returned to the magical community because exoteric ministry just isn't his cup of tea.
Jason now writes, teaches, and lectures on spirituality, magic, and manifestation within a Christian paradigm, and is available for workshops, speaking engagements and one-on-one coaching. He can be reached at agostino@thavmapub.com.
When off-duty, Jason lives in Dayton, Ohio, with his cats Melainos and Gray Lady.
Website: THAVMA Publications
Occult Catholicism FB page
http://facebook.com/OccultCatholicism
UPCOMING EVENTS
I host an online class about a different subject toward the end of each month. Next one is . . .
MAY 31, 2016 8pm EDT:
ONLINE CLASS: "The Virgin Mary in a Magical Paradigm"
Hosted online over Google Hangouts
My Google Hangout ID is OccultCatholicism@gmail.com
MOUNTAINTOP
In discussions about a regular Sunday afternoon class/study group at Mountaintop Bookstore just outside Dayton, OH.
6967 Salem Ave, Clayton, OH 45315
NEXT SPEAKING ENGAGEMENT
JUNE 23, 7pm EDT:
Lecture: "The Magical Currents in Christianity"
Yellow Springs Unitarian Universalist Church
2884  U.S.  Route 68, Yellow Springs, OH, 45387