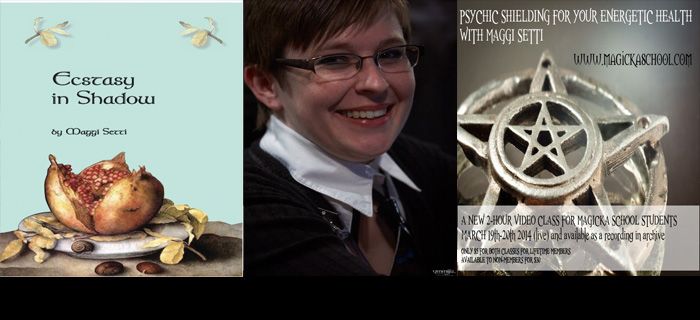 Live Tue. March 11, 2014 8PM EST on Para-X-Radio.com
Maggi Setti joins Andrieh Vitimus and Jason Colwell to discuss her book Ecstasy in Shadow.
Maggi Setti, is a Third Degree Wiccan High Priestess with 15 years of experience with the Pagan and Magickal community.  She spent over a decade as a member of the Assembly of the Sacred Wheel Tradition.  She founded the Assembly's 10th coven, in New Jersey in 2011.  She has written for worldwide publications including Witches and Pagans Magazine, Pagan Magick UK, The Witches Voice, and Portal Magazine.  Maggi answered her life calling as a teacher and ritualist.  She has led public rituals and workshops at festivals, conferences, and metaphysical shops across the United States.  She currently lives in Florida, in close communion with the lush local flora and fauna.
Her interests and specialties include Qabala, Tarot, aspecting, nature devas, the Celtic pantheon, gardening, scrying, shadow work, sacred dreaming, and women's empowerment.
Her book Ecstasy in Shadow is available for purchase at her website, http://www.maggisetti.com.
Some of her writings can be found at www.Witchvox.org.  Maggi blogs her musings on the magickal and human journey at http://lettinggoisflying.blogspot.com.