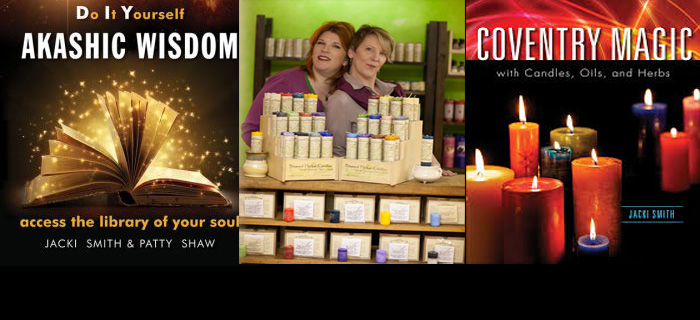 Authors Jacki Smith and Patty Shaw, with their new book Do it Yourself Akashic Wisdom, Accessing the Library of Your Soul, take you through their own experiences with the Akashic records and share their expertise in the only way they can: lightheartedly, with a side of pure inspiration and understanding that we are all people in process. With their guidance and encouragement, they will show you that anyone can access their Akashic records and work with the guides and information found there safely and effectively.
Jacki is an initiated eclectic witch and a student of all esoteric paths. Her bestselling book, Coventry Magic with Candles, Oils and Herbs published in 2011, tells the tale of her eclectic and empowered magical style. Patty is a Reiki Master and Transformational Healer who, in 2008, self-published the Healers Almanac, the 21st Century Goddess Edition. This book is an amalgamation of many healing modalities, meditations and personal discovery techniques—a perfect representation of Patty's journey to becoming a healer. Together Patty and Jacki are self-taught in Akashic healing.
You would think that 45 hours a week of making magic at Coventry would be enough, but Jacki and Patty average an additional 10 hours a week in spiritual pursuits, teaching, consulting, volunteering and learning. This is not just a job for these sisters; it is who they are: their passion and their gift to the world.
Patty and Jacki both live in Southeast Michigan.