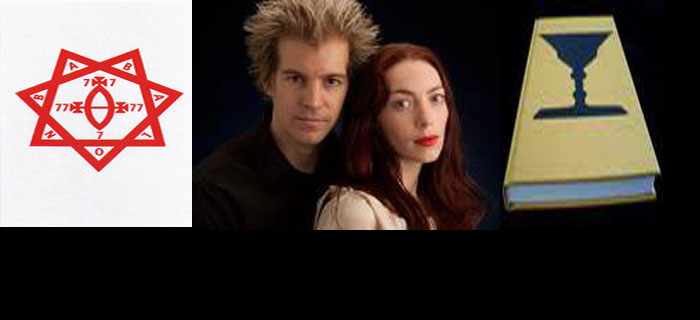 Andrieh Vitimus and Jason M. Colwell welcome Peter Grey and Alkistis of Scarlet Imprint to discuss the resurgence of the High Art Book with great leatherbound books.
Scarlet Imprint 
was founded in 2007 by Peter Grey and Alkistis Dimech to create talismanic occult books that inspire, transform and engage.Peter is a devotee of Babalon and the author of
The Red Goddess
. He is an exponent of the antinomian and libertarian strand of the Western Magical Tradition. His work comes out of physical praxis as a student of ninjutsu, a snowboarder, freeride mountain biker and surfer. His path is one of ordeal, ecstasy, and Love.Alkistis is a trained dancer and artist; her work explores the erotic, irrational, and primitive. Using techniques derived from Butoh, several Asian dance forms, energy work and martial arts, as well as shamanic practices to access states of expanded consciousness, she uses her body to enter and incorporate suppressed, archaic and non-human realms of being. She has performed in the UK and Europe.Scarlet Imprint is run by both Peter Grey and Alkistis Dimech; and was founded in 2007 with the publication of 156 copies of The Red Goddess. They have since grown to become one of the leading independent publishers of the contemporary occult world, producing standard hardbacks, paperback & digital editions and highly sought after fine editions.Their mission is one of Revelation & Revolution. The Union of Magician and Witch.Their intent and desire is to disseminate works by experienced practicing occultists,
supporting practitioners and pioneers of the new occult revival. They believe vision, poetry and engagement with the world can be aligned with the grimoires, and infused with the red blood of passion.Their work is distinguished by its practical applicability and a high level of scholarship married to experience. Their titles are designed and bound with attention to detail and quality, to manifest as apt vehicles for the transmission of magical knowledge.
Furthermore, they believe this material should be accessible to all students of Magic and Witchcraft, thus in 2010 they created the Bibliotheque Rouge. Paperbacks and digital editions: egalitarian, libertarian, fiercely individual, this is the propaganda wing of Scarlet Imprint for the transmission of information and knowledge.
Bibliotheque Rouge paperbacks serve as working copies for those prone to destroying books with candle wax, rain, coffee stains, underlining and annotations. They are travelling companions on the path. Bibliotheque Rouge digital editions are in epub and mobi format for those who prefer raw data to hard copy.
In keeping with their personal commitment to the world we live in, all materials they source are archival standard and FSC accredited. Their limited editions are printed and bound in the UK by a family run firm; their fine editions are hand bound by master craftsmen; and their paperbacks are printed and bound in the UK and USA.
Contact Information:
Email: scarletimprint@gmail.com
Facebook: https://www.facebook.com/ScarletImprint
Website: www.scarletimprint.com/
Live Journal: http://scarletimprint.livejournal.com/
Magical Blog: http://scarletimprint.blogspot.co.uk/