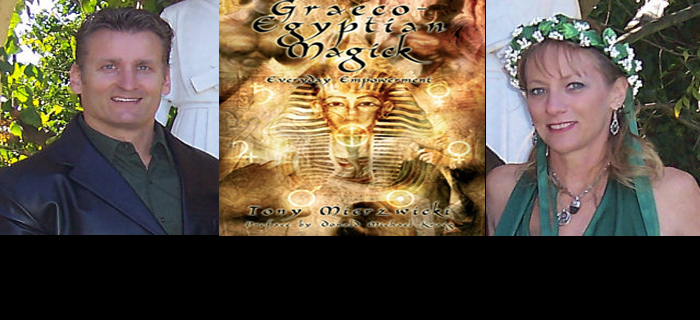 Live Tue. May 15th, 2012 on Para-X-Radio.com
Andrieh Vitimus and Jason M. Colwell are joined by Tony Mierzwicki and his lovely wife Jo-Ann to discuss Tony's book Graeco-Egyptian Magick: Everyday Empowerment , as well as the companion CD that was worked on by the couple. Tony and Jo-Ann will also let the listeners know what they are currently up to with workshops and new products!
Tony Mierzwicki
Tony has been practicing ceremonial magick since 1990. He has been running regular workshops and rituals recreating ancient magickal practices in the United States and on the east coast of Australia since 2001.
Tony Mierzwicki is the author of "Graeco-Egyptian Magick: Everyday Empowerment" and a forthcoming primer reconstructing Classical Greek religion.  He has contributed to various anthologies and magazines.  He gives regular guest appearances and lectures at various pagan, witchcraft and new age events, as has been on television and radio shows.
Tony has completed three degrees at the University of Sydney – Master of Arts, Bachelor of Engineering and Bachelor of Science.  He served a three-year term on the Board of Directors for Cherry Hill Seminary from August 29, 2008 to September 30, 2011, of which roughly half was in the capacity of Secretary.  Tony is originally from Sydney, Australia and currently lives with his wife Jo-Ann in Huntington Beach California.
Jo-Ann Byers-Mierzwicki
In 1979 Jo-Ann began learning her family's magickal tradition of mysticism and witchcraft through numerous long distance phone calls to her great aunt in England, until the aunt passed away in 2002.
After practicing her family's tradition as a solitary for many years, but wanting more, she was initiated and coven trained in 2001 through The Wiccan Order of Bast. She continued her training and in 2006 received the Priesthood degree through The Hermetic Order of the Wiccan Mysteries.  Both of these coven lineages are through the Druidic Craft of the Wise of America (DCWA) based out of Eye of the Cat in Long Beach, California, which in turn came from the Druidic Craft of the Wise (DCW) in England.
Jo-Ann has been co-facilitating all of Tony's workshops in Australia and the United States since 2004.  In February 2010 she began working with Pendraig Publishing as their Interior Layout and Design / Cover Design and Graphic Artist.  You can view her portfolio on her website JB Graphic Art Designs.  Currently, Jo-Ann lives in Huntington Beach, California, with her husband, Tony, her daughter and their black Labrador, Anubis.
You can connect with Tony and Jo-Ann on their Facebook pages, as well as view their personal website at http://www.hermeticmagick.com
Upcoming Events