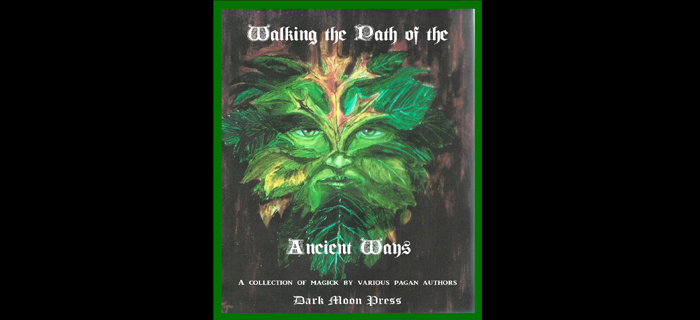 Occult researcher and Gothic fantasy artist E. R. Vernor,  best known to his fans under the pen name Corvis Nocturnum, Starr Morgayne, and Hydra M. Star join Andrieh Vitimus and Jason M. Colwell to discuss the new anthology: Walking the Path of the Ancient Ways: A Collection of Magic by Various Pagan Authors. In this wonderful new book, Pagan authors from various backgrounds share their story on being pagan in the modern world.
Corvis Nocturnum/E.R. Vernor is a May 2010 graduate with Presidents List Honor Roll from Brown Mackie College, with dual associates degrees in Business Management and Criminal Justice.  He is the co-founder and publisher of Dark Moon Press, author or a growing list of his own solo titles, as well as an accomplished editor returning rare, out of print occult books back to the community. Corvis owned an occult shop for several years while he maintained office as the Vice President of the Fort Wayne Pagan Alliance, a faith tolerance organization and acted as Vendor Director/Coordinator for Pagan Pride Day in Fort Wayne, Indiana.  He has done lectures at various events all over the Mid-West. In his free time he enjoys oil painting fantasy, Pagan, and Gothic artwork.
Starr Morgayne is a writer for Dark Moon Press.  Her book.  Bewitching Beauty: Bringing out your inner Goddess, naturally is available at www.darkmoonpress.com.   She
has contributed to various anthologies and been featured in Embracing the Darkness: Understanding Dark Subcultures as well as several radio shows.  To contact the author,  email darkmoon@darkmoonpress.com.
Hydra M. Star at a very early age developed a deep interest in demonology,  the paranormal,  and the occult.  A long time member of the Church of Satan and practicing witch,  Ms. Star has never let go of this passion for things that go bump in the night.  Rather then turn away from the darker side of nature and herself,  she has allowed it to fuel all her creative endeavors. A dark fiction writer,  columnist, book reviewer,  and poet,  Ms. Star?s work can regularly be found in both Horrotica and Twisted Dreams Magazines as well as within the pages of a forthcoming collection of her short fiction;  Prior to the Empire.