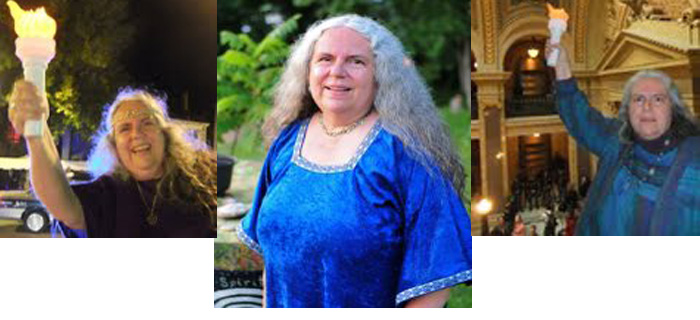 Andrieh Vitimus and Jason M. Colwell welcome The Rev. Selena Fox to the show to discuss religious freedom and the issues that are still faced in America today by those who do not choose to follow the most popular of mainstream religions.
Selena Fox is a psychotherapist, teacher, writer, photographer, ritual performance artist, and Priestess. She is founder and co-executive director of Circle Sanctuary, an international Nature Spirituality resource center headquartered on a 200-acre Nature preserve in southwestern Wisconsin, USA.
Selena received her M.S. in Counseling from the University of Wisconsin in Madison, and graduated cum laude with a B.S. in psychology from the College of William and Mary in Virginia in 1971.  She received additional training in psychology at Rutgers University, Parkway Hospital, and various conferences and training programs.  She is a member of the American Psychological Association, American Counseling Association, Association for Transpersonal Psychology, and American Academy of Religion.  She is a spiritual counselor in private practice.
Selena has been a Wiccan priestess and Pagan artist since 1973.  Her approach to spirituality emphasizes Nature communion and blends together ancient and contemporary European and American folkways, Wiccan traditions, multicultural shamanism, and transpersonal psychology.  She is one of America's best known Pagan elders, networkers, and civil liberties activists.  She is founder of Circle Network, Lady Liberty League, and the Pagan Academic Network.
She is author of Goddess Communion Rituals and Meditations and When Goddess is God.  She also has created several music and guided meditation tapes.  She is founder of the quarterly journal, CIRCLE Magazine, and sourcebook, Circle Guide to Pagan Resources. She was a consultant for Time-Life Books' "Mysteries of the Unknown" series.